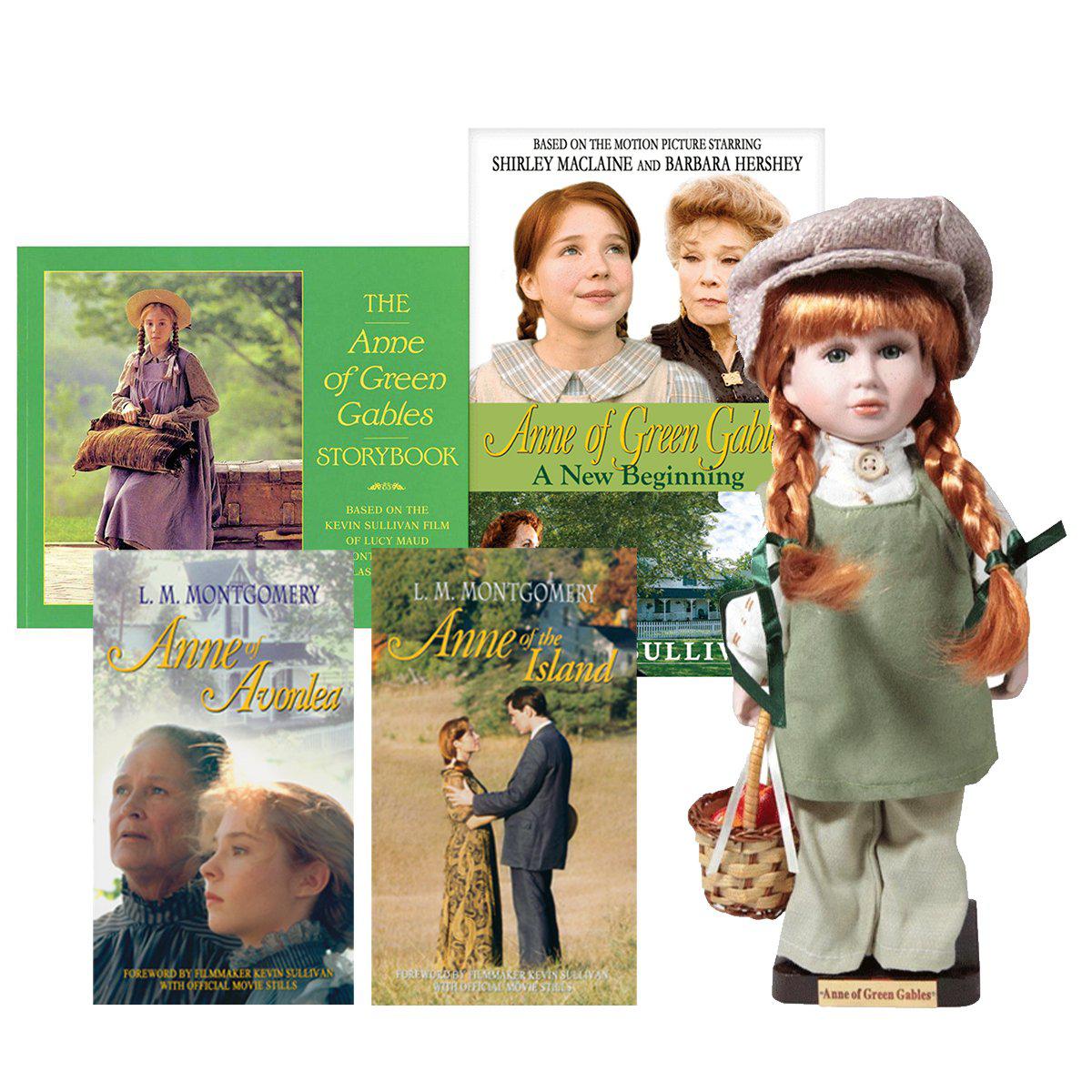 Anne of Green Gables: 12 Inch Movie Doll with Four Anne of Green Gables Books Package
Regular price
$ 65.00 USD
Sale price
$ 65.00 USD
Regular price
Give the gift of Anne Shirley to a young fan or to the collector in your life with this lovely Anne of Green Gables Porcelain Movie Doll and Book Set!
This set includes
12 Inch Anne of Green Gables: A New Beginning Official Porcelain Movie Doll.
Four Sullivan Edition Anne of Green Gables Paperback Books:
Anne of Green Gables Storybook 
The classic story of "Anne of Green Gables," simplified for a younger generation. The Anne of Green Gables Storybook contains simpler language for young readers, as well as 76 full color photographs from Sullivan Entertainment's Emmy Award Winning Adaptation. 
Anne of Avonlea  (By L.M.Montgomery)
In this charming sequel to Anne of Green Gables, readers are reunited with Anne Shirley, her bosom friend Diana Barry, and the handsome Gilbert Blythe, in a series of spirited adventures. Anne, now sixteen and a schoolteacher, is accepted as a member of Avonlea society, but she finds it almost impossible to fit the traditional definition of how a young woman should behave. Her temper is tested in the classroom at the Avonlea School, since some of her students refuse to treat her with respect. Anne still believes that "there is good in every person if you can find it," and she makes the best of the unpleasant situations that confound her. Along the way, she plays matchmaker to Diana and discovers romantic yearnings of her own.
Anne of The Island (By L.M.Montgomery)
In this third volume of the "Green Gables" series "Anne of the Island," Anne's life changes completely when she leaves her teaching position in Avonlea to attend college in Kingsport. There she shares a cozy house with three girls and meets new friends, including the man of Anne's dreams - but is he really her true Prince Charming? After graduating, Anne returns home to Green Gables to hear some shocking news. Her life is thrown into turmoil, which causes her to re-evaluate her hopes and dreams. 
Anne of Green Gables: A New Beginning (original story by Kevin Sullivan)
In Anne of Green Gables: A New Beginning, it is 1945 and Anne Shirley has returned to Prince Edward Island for an extended visit. On a whim, she agrees to write a play for theater producer, with the hopes that it will keep her busy enough to keep her mind off of her only son who is in service in the War overseas. But a long-hidden secret in the form of a letter from her errant father, discovered under the floorboards at Green Gables, provides a distraction of its own. Over the course of one remarkable summer, Anne Shirley discovers the truth about her parents, the origins of her quest for 'kindred spirits' and the roots of her brilliant, magical imagination.
Christmas for Charlotte Anne
For some time I have been a lover of Anne of Green Gables. I've been to PEI to see where she grew up. The purchase I made at Shop of Sullivan was a great value. I'll be assembling the puzzle Christmas morning. My doll and books are all wrapped and under my tree to open Christmas morning. All things that keep the heart warm are important during this covid. This will make my Christmas merry.
Charlotte Anne (with an E)
Ballwin, Mo. USA
Just what I expected
The service was excellent and the products are first rate.